BEAUTIFUL CHAOS x PHOTOGRAPHERS WE LOVE
PLANT A TREE
Plant a Tree x Beautiful Chaos x One Tree Planted

PLANT A TREE HERE, NOW!
That's right, it's that simple, you can plant a tree with Beautiful Chaos as an official One Tree Planted partner.
Until now, we've planted trees each time you purchase with us, but now YOU CAN PLANT A TREE ANYTIME and each time you plant a tree through us, we will also plant one.

Planting a tree is one click away. Just add to cart and away you go! Plant as many as you like and help us change the world! 

THE BEAUTIFUL CHAOS ICON II ECO-HOODIE
Made with 20% recycled polyester anti-pill fleece ♻️ Saving approx. 4.5 500ml plastic bottles from landfill.

Our signature Beautiful Chaos Icon II with our iconic heart on heart, wrist, and signature bold logo on the right wrist. Unique design, unmatched thoughtfulness. Love is in the details.
SHOP NOW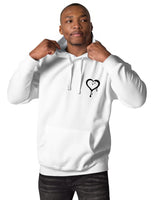 LEGACY 100% COTTON COLLECTION
SEE WHAT OUR CUSTOMERS HAVE TO SAY