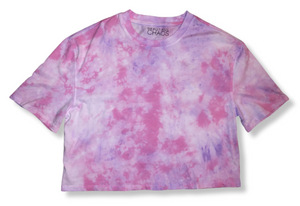 Capturing and elevating the magic of iridescence. The Beautiful Chaos Iridescence x Rose Quartz x Amethyst Tie Dye Crop is a next level statement. 
Rose Quartz & Amethyst Tie Dye in 100% Cotton. 

There is only one Beautiful Chaos and there is only one YOU. Thus, a perfect match. Just as you'd expect, Beautiful Chaos! 
Fabric: 100% Cotton
Due to the nature of our tie dye, print, cut and sew process you'll find each each tie dye varies slightly, perfectly unique; just like you and us! #beautifulchaos 
Care instructions: Machine wash according to care instructions on the the garment's care label.